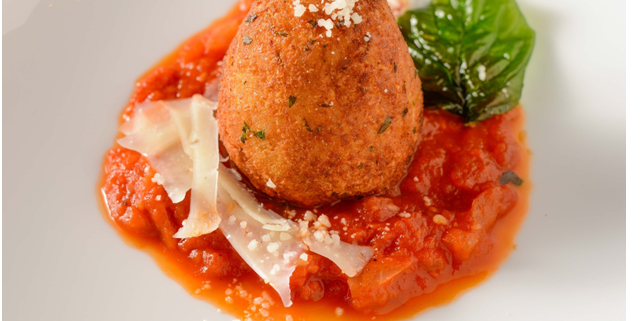 When travelling in Italy I have a weakness for arancini.  I still dream of returning to Nola and buying arancini from the tiny old man in his tiny old shop.  This recipe is courtesy of Chef Rachel, who specializes in recipes made with our oils and vinegars.
Needed for this recipe:
Sunshine Coast Olive Oil Co. Robust Extra Virgin Olive Oil
Ingredients
3 3/4 to 4 cups chicken stock
4 tablespoons Sunshine Coast Olive Oil Co. Robust Extra Virgin Olive Oil  (you want a FRESH Ultra Premium Certified Extra Virgin with a "killer chemical composition" conducive to extended, high heat cooking(Phenol Count 300+, FFA .2 or lower, Oleic Acid 75+)
3/4 cup finely chopped onion
1 cup Carnaroli rice
1/2 cup white wine
1/2 cup finely grated Parmigiano-Reggiano
1 1/2 tablespoons chopped fresh basil
Salt and freshly ground black pepper
3 eggs
1/3 cup cubed Fontina
1/2 cup fully-cooked bulk Italian sausage meat, browned and drained
Sunshine Coast Olive Oil Co. Robust Extra Virgin Olive Oil
1/2 cup flour
1 cup dry bread crumbs
Tomato sauce, as accompaniment
Directions
Bring the stock to a simmer in a medium sauce pan. Cover and set aside to keep hot. In a heavy Dutch oven or large saucepan, heat 3 tablespoons of the Sunshine Coast Olive Oil Co. Robust Extra Virgin Olive Oil  over medium-high heat. Add the chopped onion and sauté until transparent, about 4 minutes. Add rice and cook, stirring constantly, until rice is opaque and fragrant, about 1 minute. Add the white wine and cook, stirring, until absorbed. While continually stirring, begin adding the stock in 1/2 cup increments, allowing the liquid to become completely absorbed between additions. Cook until the rice is just tender and the risotto is still loose and creamy, about 20 minutes. Add the grated Parmigiano-Reggiano, basil and salt and pepper and stir to combine well. Transfer to a mixing bowl or baking dish and allow to cool completely. Refrigerate until thoroughly chilled.
Remove the chilled risotto from the refrigerator and stir in 1 of the eggs. Using a small scoop or large spoon, divide the risotto into approximately 3 tablespoon portions. Using your hands, form the portions into rough ball shapes.
Press a hole into the center of each risotto ball and stuff the center with a cube of the cheese and the browned sausage. Press the opening closed and roll the ball between your hands until it is smooth. Set aside while you prepare the other arancini. In a large saucepan, heat 2 inches of oil until a deep-fry thermometer reads 360 degrees F.
Place the flour, remaining 2 eggs and bread crumbs in 3 separate bowls. Season each with salt and pepper to taste. Using a fork, lightly beat the eggs. One by one, lightly dredge each risotto ball in the flour, then the beaten egg mixture, then the bread crumbs, so that each ball is completely coated.
Transfer to a plate or baking sheet until you are ready to fry the arancini. Fry the balls in batches, a few at a time, turning once during cooking so that they are evenly browned, about 2 minutes. Transfer to paper-lined plates to drain, and then serve immediately. Serve with a garnish of Parmesan cheese and some tomato sauce.
https://sunshinecoastoliveoil.com/wp-content/uploads/2018/06/Arancini-e1527953768682.bmp
349
300
Fiona
https://sunshinecoastoliveoil.com/wp-content/uploads/2019/12/products-logo_for_website_with_yellow_border_smaller_1_1_1.jpg
Fiona
2018-06-02 07:37:58
2021-09-01 11:59:06
Arancini Stuffed Rice Balls