Visit our store in Gibsons Landing for complimentary tastings of our over 40 flavours.
Fall Hours:

Monday – Saturday 10:00 a.m. – 5:30 p.m.
Sundays & Holidays 10:00 a.m. – 5:00 p.m.
We are open 10- 5 on  Thanksgiving Day 2014

Our online store is open 24 hours a day
Sunshine Coast Olive Oil Co.
Sunshine Coast Olive Oil Co.  is a gourmet food store specializing in balsamic vinegars, single-estate and infused extra virgin olive oils.  We are proud to be supplied by Veronica Foods and to be part of the Veronica Foods cooperative.  Veronica Foods sources UP-certified olive oils from around the world, ensuring traceability and transparency.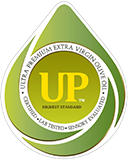 Sunshine Coast Olive Oil Co. is part of the exclusive Ultra Premium (UP) certification program. This ensures that everyone involved in bringing this olive oil to your table – everyone from the farmer to the shipper to us, your retailer – must adhere to a strict code of ethics and standards to ensure the your olive oil is the freshest and highest quality available. More info here.